The first Shikoku male in Poland!
Registered Name: Toshiya-Gaia v.d. Egmato
Call Name: Toshiya (after Dir En Grey's bassist)
Date and birth country: 4.08.2017, Hungary
Mother: Gaia by Wolves Mountain (JChFR ChFR)
Father: Miyuki-Hayato v.d. Egmato (BIS MBISS MBJISS WW'17'18'21 EW'17'19 EJW'14 Multi CH Multi GCH)
Colour: sesame
Height: 54 cm
Genotype: awaw E/E, S/S
Pedigree Database: shikoku-pedigree.com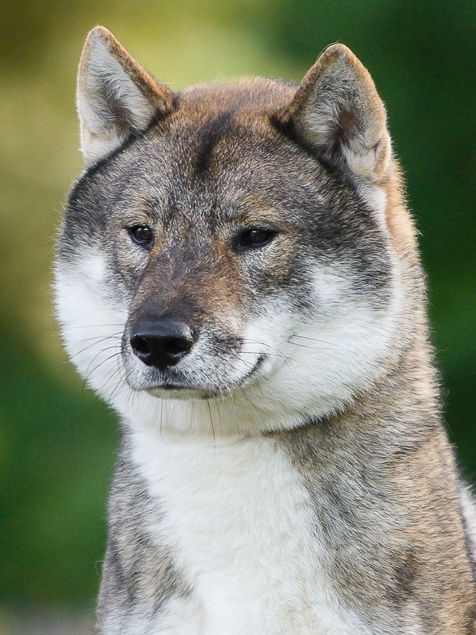 🐾 HEALTH TEST RESULTS 🐾
HD-A (free of hip dysplasia)
ED 0/0 (free of elbow dysplasia)
Thyroid: in norm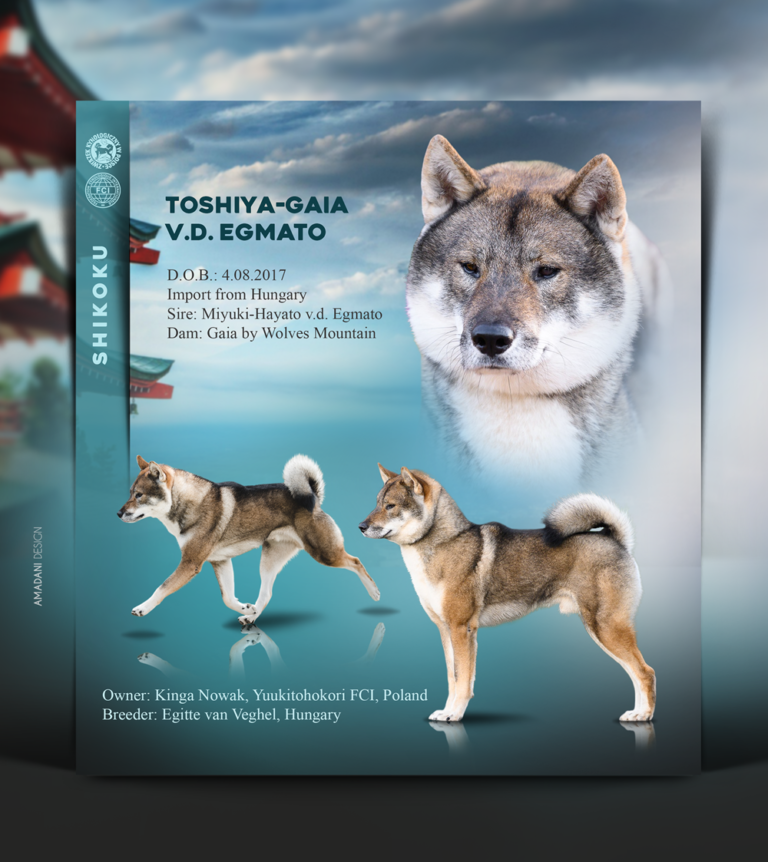 🐾 TITLES AND AWARDS 🐾
Polish Junior Champion
Champion of Poland
Polish Grand Champion
started Champion of Austria
Champion of Czech Republic
Champion of Slovakia
Champion of Hungary
Hungarian Grand Champion
Interchampion
European Junior Winner 2018
res.European Winner 2019
Austrian Winner 2019
Poland Winner Kielce 2019
Poland Winner Poznań 2021
Poland Winner Kielce 2022
Club Winner 2019
Club Winner 2021
Polish TOP DOG Shikoku 2018 #1
Polish TOP DOG Shikoku 2019 #1
Hungarian TOP SHIKOKU 2020 #1
Polish TOP DOG Shikoku 2020 #2
Polish TOP DOG Shikoku 2021 #1
Polish TOP DOG in FCI group V #2
Polish TOP DOG Shikoku 2022 #1
BOB Puppy, Multi BOB Junior, Multi BOB
4 x BIS III, 9 x BOG I, 5 x BOG II, 4 x BOG IV, BOG V
A few words from me…
Toshiya is one of the craziest dog in our pack. At home, he behaves like a big puppy, and during exhibitions he is a proud representative of Shikoku breed. Every time I ask him "Toshi, are we going to the dog show?!" he is crazy about joy! He desires love and closeness from his family the most in the world and does not like loneliness. This is a very active dog that does not like to sit in place for more than 30 seconds 
 Despite its crazy nature, Toshiya is gentle for children, friendly people and dogs.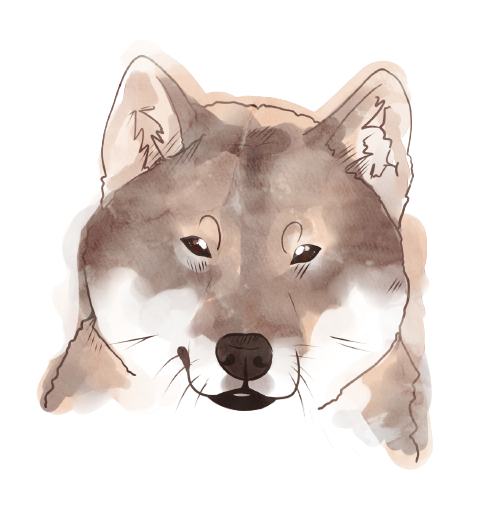 Puppy Class:
Very promising mark
Place 1
Best Puppy in Breed
Junior Class:
8 x Excellent mark
8 x Place 1
8 x Junior Winner
8 x Best Junior
7 x Best Of Breed
Intermediate Class:
7 x Excellent mark
7 x Place 1
5 x Best Adult Dog
6 x Best Of Breed
7 x CAC
5 x CACIB
res.CACIB
Open Class:
16 x Excellent mark
16 x Place 1
15 x Best Adult Dog
15 x Best Of Breed
16 x CAC
15 x CACIB
Champion Class:
30 x Excellent mark
29 x Place 1
29 x Best Adult Dog
29 x Best Of Breed
29 x CAC
16 x CACIB
From judges: beautiful head, typical eye and ears, excellent upper line, beautiful in motion, beautiful male head, wide forehead, perfect pigment, tail properly worn and embedded, perfect temperament, excellent psyche, smooth movement, correct ear gauge, very good body structure – suitable for the breed, very friendly, perfect coat, perfect head with a sweet expression, excellent chest, "this dog has everything what standard is asking for, for a judge is also pleasure to judge dog such high quality", champion in every way
2018
BOG II – Zabrze

BOG III – Huta Stara B
2019
BOG IV – Sosnowiec

BOG V – Praga, Czechy

BOG I & BIS III – Nitra, Słowacja

BOG I & BIS III – Nitra, Słowacja
2020
BOG IV – Szilvásvárad, Węgry

BOG I – Kecskemét, Węgry

BOG I – Kecskemét, Węgry

BOG I – Kecskemét, Węgry
2021
BOG IV – Zakrzów

Breeders Group – 3rd place with Azayaka & Doron v.d. Egmato, Wrocław

BOG II – Gorlice

BOG II – Łomianki

BOG I & BIS III – Przemyśl

BOG I – Kraków-Nowa Huta

BOG I – Poznań
2022
BOG I – Branice

BOG II – Branice

BOG IV – Krosno

BOG II – Krosno
Toshiya is the son of a stunning representative of the breed – multi champion, world champion, multi Best In Show winner – Miyuki-Hayato v.d. Egmato
and the grand son of a beautiful World and European Winner, multi champion, NIPPO Holland Winner '14 – Hayato-Michi v.d. Egmato
In addition, his veins are filled with the blood of many other beautiful Shikoku representatives.