The first purebred Jindo male in Poland!
Registered Name: Taesan
Call Name: Haru
Date and birth country: 11.06.2017, Jindo Island, South Korea
Mother: HwaDu
Father: BaekRyong
Colour: white
Height: 50,5 cm
Genotype: Ayaw e/e, i/i, L/L, S/S
DNA Profile: done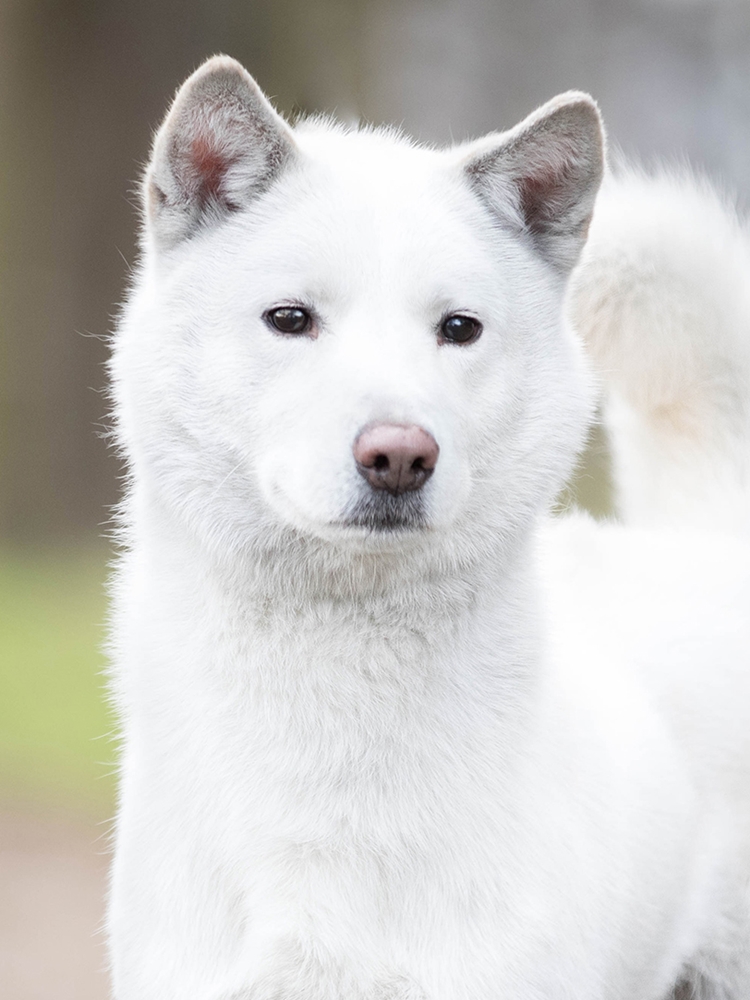 🐾 HEALTH TEST RESULTS 🐾
HD-A (free of hip dysplasia)
ED 0/0 (free of elbow dysplasia)
PRA: clear (free of hereditary progressive retinal atrophy)
Thyroid: in norm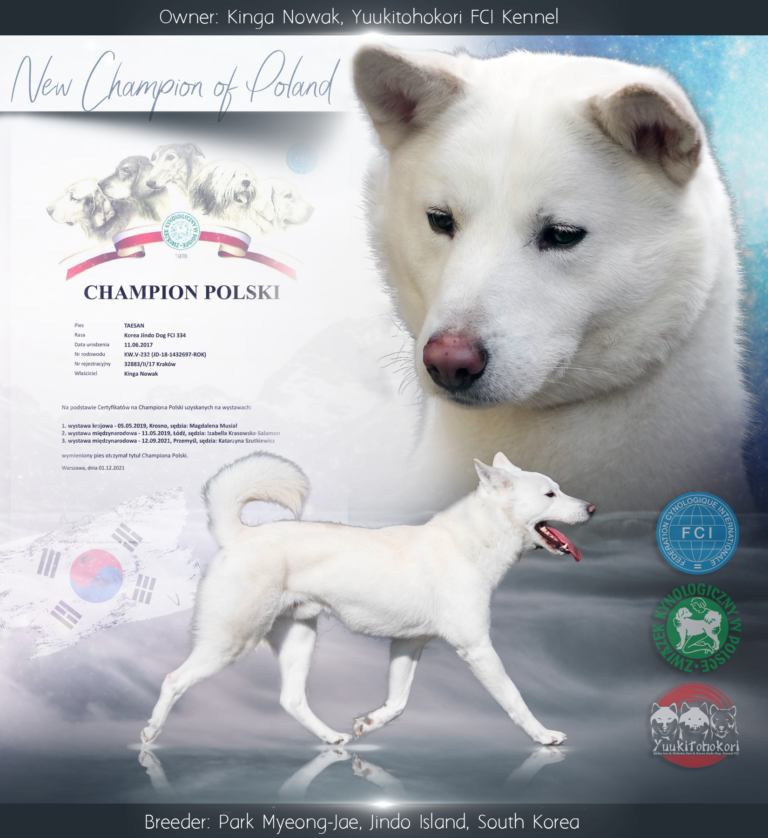 🐾 TITLES AND AWARDS 🐾
Polish Junior Champion
Champion of Poland
Polish TOP DOG Korea Jindo Dog 2018 #1
Polish TOP DOG Korea Jindo Dog 2019 #1
Polish TOP DOG Korea Jindo Dog 2021 #2
Multi BOB Junior, Multi BOB
A few words from me…
Haru is always smiling and eager to have fun with us. He is a loyal friend who trusts his family the most in the world and does not like to be alone with strangers. He prefers free walking in the meadows from running on show rings. He is a great guard dog, no one or anything will pass him unnoticed, but at the same time he is a great family dog who wants to be close to his people.
Haru does not feel comfortable at dog shows, so after obtaining the last title (Champion of Poland), he retired from showing. 😊
Junior Class:
5 x Excellent mark
5 x Place 1
4 x Junior Winner
5 x Best Junior
5 x Best Of Breed
Intermediate Class:
3 x Excellent mark
3 x Place 1
2 x Best Adult Dog
2 x Best Of Breed
2 x CAC
CACIB
Open Class:
Excellent mark
Place 1
Best Adult Dog
Best Of Breed
CAC
CACIB
From judges: excellent representative of the breed, with typical proportions, beautiful head, perfect angulation of the limbs, excellent upper line, perfect movement, excellent action, good quality of the coat, male in expression, moderately deep and strong chest